This easy recipe for Broccoli Cheddar Soup requires zero prep! Just dump everything into your crockpot and let your slow cooker do all the work. Made with cream of chicken soup, fresh or frozen broccoli, cheddar cheese and potato flakes. Everything cooks in one pot for easy clean up.
This post may contain affiliate links. As an affiliate, I earn a commission.
Jump down to Recipe
There are so many recipes for making Panera's Broccoli Cheddar Soup at home. I've tried many of them. And no offense to anyone, but they just don't taste right or hit the spot. They are also typically very labor intensive. Lots of chopping and sauteing.
I wanted something that tastes great. Is very esay to make in the crockpot. And it cost effective.
So I am bringing you a brand new recipe for making Broccoik Cheddar soup that actually tastes like the real deal and requires zero prep! Just toss everything into your slow cooker and let it cook.
★ Why You'll Love this Recipe ★
This cozy creamy soup will warm you up on a chilly day. It's great for dinner and leftovers make an easy-to-pack lunch to take to work.
Top this with croutons made from simply chopping up a bakery-fresh French baguette and you're in business!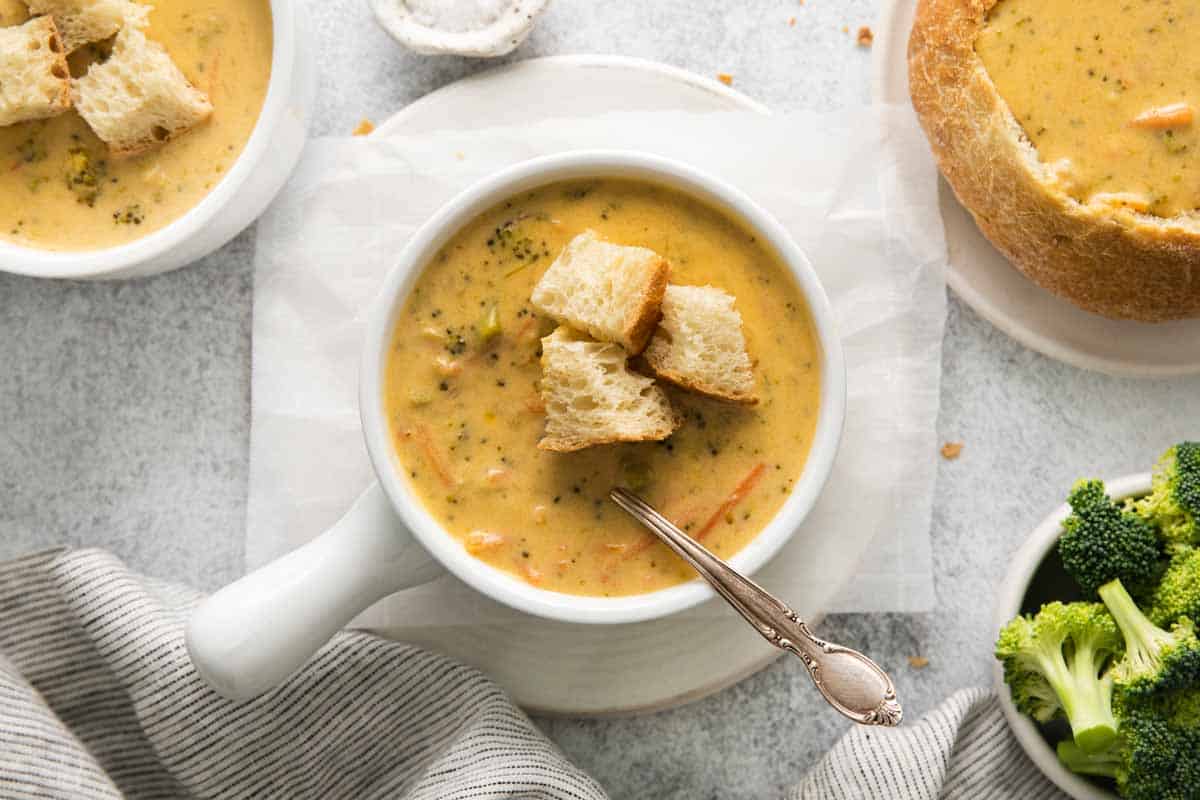 This soup is made with fresh or frozen, broccoli florets and a healthy serving of carrots.
These two veggies combine with creamy cheesy chicken broth create that signature broccoli cheddar flavor combination made popular by Panera years ago. It's just a cant-go-wrong combo. Cheese, broccoli, soup. Yes, yes, yes.
We're using cream of chicken soup so there's no need to make a roux, although you could. If you want to make your own cream of chicken sauce, please feel free!
★ Ingredients You'll Need ★
What's in this broccoli cheddar cheese soup?
As I mentioned, I set out to make this as easy as possible to prep and as close as possible to the actual Panera soup as you can get.
Here's everything you'll need:
Milk. Any percentage works. Higher fat content will result in a creamier texture and more rich flavor but will be higher in calories.
Butter. Salted or you can go unsalted and add salt to taste. You can also use margarin if you prefer.
Potato flakes. These are dehydrated, dried potatoes that dissolve easily and will thicken your soup as well as add flavor.
Onion soup mix. You can also use just plain dried onions if you prefer a simple flavor. You'll need ¼ cup if using dried onions.
Chicken broth. I'm a fan of bone broth for the health benefits and it has a nice flavor too but choose any chicken stock you like or go with vegetable stock if you want to make this vegetarian.
Cream of chicken soup. We're using canned cream of chicken to keep this easy but you can also make your own.
Paprika. For seasoning.
Broccoli. Fresh or frozen. Finely chop if desired or leave them chunky. Up to you!
Matchstick carrots. Or peel and shred your own.
Shredded cheddar cheese. You can also shred your own.
★ How to Make this Recipe ★
Basically, just add everything except for the cheddar cheese to a large crockpot, dutch oven, or soup pot on the stove. Stir. Cover and cook. Stir. Serve! Easy peasy.

★ Tips & FAQs ★
What does this broccoli mac and cheese soup taste like?
This soup is similar in flavor to Panera's broccoli cheddar soup. It's thickened with potatoes, flavored with onion and spices and has a rich, creamy taste which compliments the vegetables so well.
Want to put it in a bread bowl or dip in some crusty bread? Go for it. But you don't have to, which is nice. It eats like a meal just like it is.
Can this soup be made on the stove top?
Absolutely. Follow the same instructions, combining everything in one large pot. Set the heat to medium-high and bring everything to a boil. Stir until ingredients are combined. Reduce to simmer and cover. Cook for 1 hour or until veggies are softened.
How to Make this Soup Vegetarian
You might not realize this soup is not vegetarian. But yes, it is chicken-broth based. So if you're making this yourself and want to make it vegetarian, just substitute the chicken broth with vegetable broth. And you can swap out the cream of chicken with cream of celery, onion or mushroom.
Want to add meat?
Why not? Unless you're a vegetarian of course. But if you're not, them try adding in ham. Or chicken. Both work great with the broccoli cheddar flavor.
Cooking your Pasta Al Dente
Be sure to cook your pasta al dente which is about 1 minute less than the recommended cook time on the package. This will allow your pasta to absorb some of the broth when you add it to the soup and will help prevent the noodles from getting too soft and falling apart.
Freezer-friendly
If you want to double or triple this recipe, you can, and then freeze some of the leftovers.
Freeze in individual sized portions and reheat in the microwave for about 3 minutes or until you've reach your desired temperature. I love my soups, just under burning my mouth, ha!
A One-pot Dinner
Everything slow cooks in your crockpot which just makes life so much easier than dealing with multiple pots and pans and steps.
Know what's even better? You can use a crockpot liner so you have zero dishes to wash!
Shop crockpot liners on amazon
★ More Recipes You'll Love ★
Love soup?
Me too! Soup is the perfect meal during the cool months of fall and winter, heck, even early spring around here. But honestly, I eat soup in the summer too. They're just fun to make, easy and make yummy leftovers.
Check out my other soup ideas!
Browse all my soup recipes (Be sure to pin your favorites for later!)
Want more easy dinner ideas?
This easy recipe for broccoli cheddar soup was featured on South Your Mouth!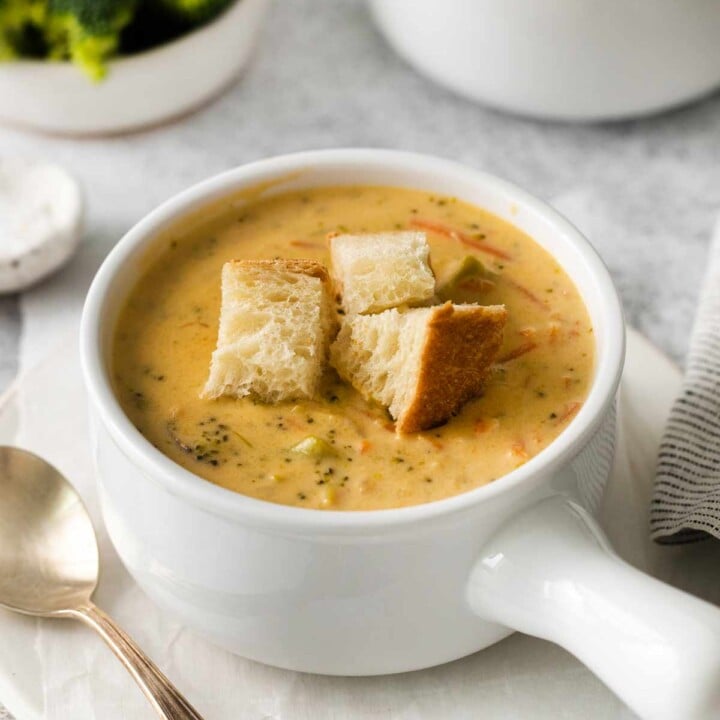 Broccoli Cheddar Soup
This easy recipe for Broccoli Cheddar Soup requires zero prep! Just dump everything into your crockpot and let your slow cooker do all the work. Made with cream of chicken soup, fresh or frozen broccoli, cheddar cheese and potato flakes. Everything cooks in one pot for easy clean up.
Read Comments
Print
Pin
Rate
Ingredients
1

cup

milk

3

tablespoon

butter

9

oz

package potato flakes

2

oz

packet onion soup mix

4

cups

chicken broth

10.5

oz

cream of chicken soup

¼

teaspoon

paprika

½

cup

broccoli spears

finely chop if desired

½

cup

matchstick carrots

¼

cup

shredded cheddar cheese
Instructions
Add milk, butter, potato flakes, onion soup mix, chicken broth, cream of chicken soup, broccoli and carrots to your crockpot and stir.

Cook on high for 2 hours or low for 4 hours. Stir until ingredients are combined.

Stir in cheddar cheese and serve.
Notes
Use a hand mixer if needed to combine ingredients and thicken soup.
Nutrition Facts
Serving:
1
cup
|
Calories:
167
kcal
|
Carbohydrates:
15
g
|
Protein:
5
g
|
Fat:
10
g
|
Saturated Fat:
4
g
|
Polyunsaturated Fat:
1
g
|
Monounsaturated Fat:
2
g
|
Trans Fat:
1
g
|
Cholesterol:
19
mg
|
Sodium:
713
mg
|
Potassium:
203
mg
|
Fiber:
1
g
|
Sugar:
1
g
|
Vitamin A:
1523
IU
|
Vitamin C:
14
mg
|
Calcium:
80
mg
|
Iron:
1
mg
Follow Mighty Mrs. for more easy recipes!
Find @MightyMrs on Pinterest