You only need a small bowl of this soup to be filled up and warm. Try eating it from a large mug to feel even better!
This post may contain affiliate links. As an affiliate, I earn a commission.
Jump down to Recipe
This is one of my favorite fall/winter meals to prepare because it's one of those meals I don't need to think about ahead of time and it only takes 30 minutes to cook. I also love making a roux. I don't know why but I think maybe it's because it makes me feel like a legit cook. It's actually super easy to make a roux and it's kind of fun in a weird, nerdy chef way, to watch the ingredients *magically" thicken up and form into a soup base. If you've never made a roux before, just follow the steps below and you'll be surprised how easy it is.
A roux is so useful. I now use it as a base for all sorts of things. I always have the ingredients on hand to whip it up since it's just 3 ingredients — butter, flour and milk. And, I don't even have to buy Cream of _____ (fill in the blank) ever again. A roux sauce makes a great white gravy for chicken and biscuits, is the base for chicken pot pies and also homemade macaroni and cheese. So, it's a cooking skill worth picking up in my opinion, even if you're not normally a from-scratch kind of cook. Now, all that said, if you want to use a soup starter or a cream of whatever, that's absolutely fine! Don't stress about it. I'm all about easy, stress-free dinners. As a full-time working mom, trust me, I get that shortcuts are the secret to making it all work.
So, the peas. Those are the health factor here. I'm not going to try to hide the fact that this is full of carbs and light on the veggies. We like hearty, flavorful meals around here and we do a lot of running around so it all averages out (mostly). My tip is to fill up on some carrots and hummus or an otherwise healthy appetizer right before eating this soup so all you'll need is a little bowl to fill you up the rest of the way. This also makes a great lunch so then you have the rest of the day to burn off those carbs. breakfast stuffing. I gotta say, it's pretty awesome!
One last tidbit then I'll leave you to your recipe... does anyone else LOVE eating soup out of a big mug?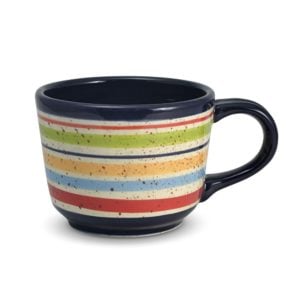 I just love sliding my hand around a warm mug of soup on a cold day. Add in a fuzzy blanket and some Netflix and now we're talking about my favorite way to spend a lazy fall or winter day. I scored the mug in the photo above from The Christmas Tree Store but I found this cute one on Amazon in case you want to share in my love for big striped soup mugs. 🙂

Cheesy Ham and Potato Soup
You only need a small bowl of this soup to be filled up and warm. Try eating it from a large mug to feel even better!
Read Comments
Print
Pin
Rate
Ingredients
4

large

potatoes

diced

4

tablespoon

butter

4

tablespoon

flour

4

cups

milk

2

leeks

chopped

1

cup

diced ham

you could use bacon too

1

cup

shredded cheddar cheese

¼

cup

sour cream

Fresh cracked pepper to taste

Garnish with fresh chopped chives if desired
Instructions
Peel and cut potatoes into bite-sized chunks, place in a large pot with 4 cups of water. Cover and boil for 15-20 minutes or until potatoes are soft all the way through then drain away water.

In a dutch oven over medium heat, sauté leeks in butter until softened. Add diced ham, stirring occasion. Cook until leeks are translucent and ham is lightly browned.

Whisk in flour and cook for 2-3 minutes to cook out the floury taste, whisking continuously. Slowly whisk in milk and continue stirring until thick. Turn down heat and simmer for 10 mins.

Serve with freshly cracked pepper to taste.
Nutrition Facts
Calories:
760
kcal
|
Carbohydrates:
89
g
|
Protein:
29
g
|
Fat:
33
g
|
Saturated Fat:
19
g
|
Polyunsaturated Fat:
2
g
|
Monounsaturated Fat:
8
g
|
Trans Fat:
1
g
|
Cholesterol:
107
mg
|
Sodium:
795
mg
|
Potassium:
2015
mg
|
Fiber:
9
g
|
Sugar:
18
g
|
Vitamin A:
1867
IU
|
Vitamin C:
78
mg
|
Calcium:
570
mg
|
Iron:
5
mg
Follow Mighty Mrs. for more easy recipes!
Find @MightyMrs on Pinterest