If you love iHop's Swedish Crepes with Lingonberry jam, then you will love to know that it's actually easy to make this dish yourself at home!
Swedish Crepes with Lingonberry Jam is my jam!
In college, it was a treat to go to iHop and enjoy this dish. With the help of my sister and husband, we cracked the code on making delicious and flavorful crepes at home.
Homemade crepe batter is better with beer!
That's the secrete here. The beer!
Beer adds some extra flavor to these crepes making them amazingly delicious. However, it's not required. If you don't have beer or prefer not to use beer, you can just add extra milk instead. You can also use nonalcoholic beer if you'd like.
What ingredients are needed to make these i-Hop inspired Swedish Crepes?
Good news: You don't need a long list of ingredients to make homemade crepes.
Here's everything you need: flour, milk, eggs, sugar, salt, and beer plus toppings. To make the Swedish style, you'll want to use butter and lingonberry jam.
You can also stuff or top these delicious crepes with fresh fruit — strawberries, bananas and Nutella are a favorite combo of ours.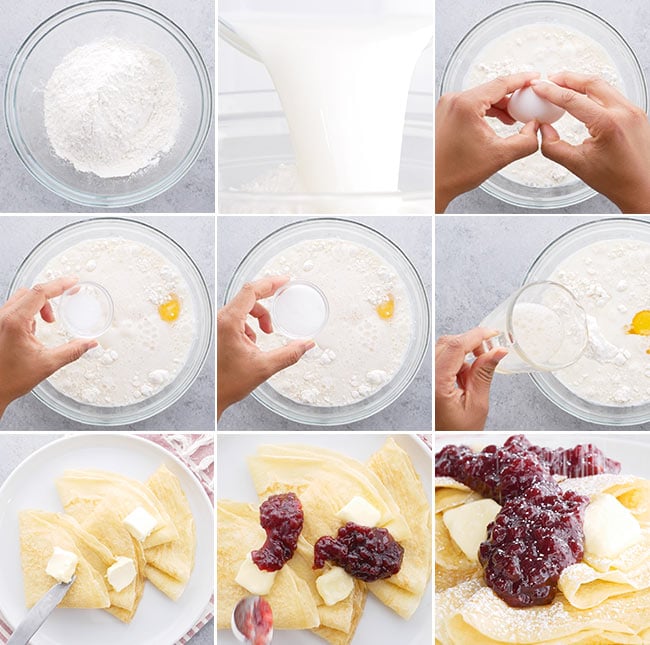 Homemade crepes are actually easy to make!
Slightly more difficult than pancakes, I'd say. Once you master the flip, you're good to go. Check out this video that shows how to make these, step by step:
What do Lingonberries taste like and where do they come from?
Lingonberries are a small red berry that have a tart flavor. Add a little sugar and this become a delicious sweet-tart jam with a wonderful texture!
Since the berries themselves are so small, the jam usually features whole lingonberries within the jam which give you a nice little pops of flavor as you chew them.
Lingonberries are native to Sweeden so funny enough you can find jars and jars of lingonberry jam at Ikea! You can also find this Swedish jam at many grocery stores now too as it has gained popularity over the last 10 years or so.
A hearty amount of butter is best.
Butter makes everything better and this is certainly the case with the Swedsih crepes. I like to add heavy portions of both lingonberry jam and butter. Many times I will mix the two together first and then apply the butter-jam mixture to the top of the crepes. The creamy/saltiness of the butter really brings out all the best qualities of the lingonberry jam and makes these crepes melt in your mouth.
So, my point? Don't skimp on the butter! Or you'll really be missing out on the maximum flavor of these crepes.
You'll want to use a flat skillet, frying pan or crepe pan.
The key here is something flat. And round. And pretty large so the crepe batter has room to spread out nice and thin. Non-stick works best. Cast iron is not ideal.
Need a flat pan? Shop flat round pans on Amazon
Want more delicious breakfast ideas?
Browse all my breakfast recipes
This recipe for Swedish Lingonberry Crepes (iHop Copycat) was featured on Menu Plan Monday!