This lazy guide to making crockpot BBQ pulled pork in the slow cooker is great for getting yourself set up with a bunch of meal options for the week.
This post may contain affiliate links. As an affiliate, I earn a commission.
Jump down to Recipe
This lazy guide to making crockpot BBQ pulled pork in the slow cooker is great for getting yourself set up with a bunch of meal options for the week.
Start with any size hunk of pork.
This recipe starts with a pork butt of any size, you'll just need to check the temperature and juices to know when it's ready.
At what temperature is pork fully cooked and safe to eat?
The National Pork Board recommends cooking pork to an internal temperature of 145° F. (View the full chart and more details here) So, have a meat thermometer handy since that's the best way to tell if your pork roast is thoroughly cooked without overcooking it to the point of it being really dry.
Don't have a meat thermometer? You can snag one from Amazon. Shop meat thermometers
Another telltale sign that your pork is not yet done is if you puncture it with the thermometer, and the juices that come out are redish pink. This means it still needs time. Juices should be more of a brown color when the pork is done.
Don't love BBQ sauce?
If you're kind of on the fence about the salt-sweet-smokey sauce, can I just tell you that there was a time when I did not like barbecue sauce? No? Good because I'd like to forget about those youthful indiscretions myself.
You can learn to love it if you give it a chance.
It's very possible that the barbecue sauce you've had just wasn't a good one. There are so many types of barbecue sauce that are typically made a certain way by region. For example, Carolina barbecue sauce is more yellow in color because mustard is one of the main ingredients. However, more traditional barbecue sauce like the ones found in Texas, are mostly deep redish brown in color. For a full guide to barbecue sauce by region, check out this article.
Making your Own Sauce
Of course you can make your own sauce if you want. It's actually quite easy and I have a recipe for you if that's your thing. Get my homemade barbecue sauce recipe here.
However, this is lazy BBQ pork for a reason. I'm a busy mom with a lot going on during the week so buying bottled barbecue sauce is a big time saver for me. There are a lot of options too which is nice!
Still, if you have time and want to make you own, then you can still use this easy recipe. You may even find that making some sauce ahead of time and keeping it in the fridge would be a way to get the homemade flavor you want without spending a lot of time when you've ready to actually make pulled pork.
Making BBQ Pulled Pork at Home
This simple crockpot pulled pork recipe is one of my favorites to make. This recipe makes enough to serve a small crowd but you can also make it for dinner and use the leftovers to munch on throughout the week for lunch. It's so easy!
To make things even easier, try using these meat shredder claws to quickly and easily shred the cooked pork without burning your hands.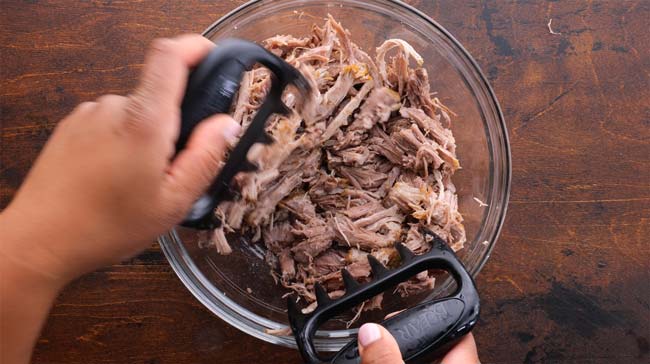 What can you make with pulled pork?
I love a pulled pork sandwich topped with homemade coleslaw, on a toasted kaiser roll or try pulled pork on Hawaiian rolls with avocados for delicious pulled pork sliders.
You can also serve up pulled pork without a bun. Pair it with a side of baked beans, homemade macaroni and cheese, mashed potatoes and/or some cornbread. We like to do this and it feels just like you're out to eat at Famous Dave's!
Hungry for more easy dinner ideas?
This easy recipe for Crock Pot BBQ pulled pork was featured on Menu Plan Monday and South Your Mouth!

Lazy BBQ Pulled Pork
This lazy guide to making crockpot BBQ pulled pork in the slow cooker is great for getting yourself set up with a bunch of meal options for the week.
Read Comments
Print
Pin
Rate
Ingredients
3 to 4

small

pork loins

or 1 large pork butt

1

cup

apple cider vinegar

2

tbsp

Worcestershire sauce

1

(20oz )

bottle your favorite barbecue sauce or make your own barbecue sauce

Salt and pepper to taste
Instructions
Add pork loins or butt to your crockpot and then top with vinegar and Worcestershire sauce. Cook 4-6 hours on low or until internal temperature reaches 145° F. TIP: If using a pork butt, score the fat on top to prevent the roast from shrinking as it cooks. (Learn how to score a pork roast

here

)

Optional: If you want some added flavor, finish off the roast by placing in a 450˚ oven for 20 minutes. This step is optional, if you're feeling lazy, its OK to skip it!

When fully cooked, remove pork and let cool until it's not too hot to touch. Shred the pork by hand into a large bowl. Add salt and pepper to taste.

Toss pork in barbecue sauce and serve immediately or refrigerate and re-heat when ready to eat. Note: Don't add the barbecue sauce until the pork is cooked. The sugar in the sauce will burn if cooked with the pork.
Nutrition Facts
Lazy BBQ Pulled Pork
Amount per Serving
% Daily Value*
* Percent Daily Values are based on a 2000 calorie diet.