These easy creamy Swedish meatballs using frozen meatballs (or make your own) are served over egg noodles and is one of our favorite recipes to make for dinner during the week.
This post may contain affiliate links. As an affiliate, I earn a commission.
Jump down to Recipe
These easy creamy Swedish meatballs using frozen meatballs (or make your own) are served over egg noodles and is one of our favorite recipes to make for dinner during the week.
No trip to Ikea required. Although, there are plenty of other very valid reasons to go to Ikea… 🙂
No cream-of sauces needed. This easy recipe incorporates a very quick and easy homemade sauce you'll love
How to make an authentic Swedish meatball gravy.
This recipe does not use any cans of cream-of sauces because making your own sauce pretty much takes the same amount of time as opening up a can and scraping out the insides. And you only need butter and flour. Why wouldn't you just make it homemade then, right?
In fact, the canned cream sauces are all super easy to make yourself at home! Be sure to check out my How to Make White Sauce page for more tips about that. You'll end up consuming a lot less sodium and you'll cut out a lot of junk ingredients if you make your own cream sauce. That's why I pretty much always make my own. It also it taste wayyyyyy better homemade too. Win-win.
I actually also thoroughly enjoy the process of making a roux-based sauce. There's something about it that's relaxing. Ha! That sounds weird but it's true. Once you get the butter+flour+liquid combo down pat, it's really easy to do and you'll find it's the base for most creamy sauces so it's a good cooking skill to go ahead and learn when you get the time.
Anyway, hopefully I've sold you on the idea of making your own sauce. Now let's get into this yummy, easy recipe for Swedish Meatballs.
Can you use frozen meatballs?
Yes! I know I was talking about all things homemade just now, but meatballs are time consuming to make and you can buy ones that are frozen that taste great. So I totally cheat and use store-bought frozen meatballs. You can absolutely make your own though too and I have a go-to recipe if you want to take time to do that. Get my meatball recipe here.
I'm honestly not a huge fan of store-bought frozen meatballs but don't always have time to make them from scratch. If you do, go for it! If you don't have that kind of time, then you might feel better to know that store-bought meatballs don't usually have a lot of extra junk ingredients. So it's a shortcut that won't be forcing you to sacrifice your health.
What kind of frozen meatballs should you use?
Ideally you'll want to use unseasoned, original meatballs. Avoid using Italian-style meatballs if you can. It's not a deal breaker, but this Swedish sauce will taste better on plain meatballs vs. seasoned ones.
You can even use vegetarian "meatballs" or meatballs made with ground turkey if you're looking for a lighter option. I find that the medium to higher priced meatballs do have better flavor but in this case, the Swedish sauce will overpower the flavor of the meatballs themselves more so than meatballs with red sauce. So you don't have to worry too much about the taste of the meatballs other than checking the ingredient list and nutrition facts.
How to make this picky-eater friendly
If you're like me and have picky kids or grown picky eaters, you can easily make these Swedish meatballs picky-eater friendly by serving the noodles with just butter and cooking some meatballs without the gravy. No need to make two separate meals. Not that I ever do that… ?
What kind of noodles go best with Swedish meatballs?
I like to use no-yolk egg noodles. They're a little lower in fat and cholesterol than regular eggs noodles and I can't tell a difference in the taste since I like my noodles smothered in sauce anyway!
Can I add mushrooms?
I though you'd never ask. I also love mushrooms. Especially in Swedish meatballs!
I feel bad for people who haven't discovered their love for them but sadly, it's true. There are people who don't enjoy them so you can leave them out completely if you must. The sauce still has a lot of flavor without them.
If you think you can get away with it though, try chopping them up really tiny and adding them in. Most people that don't like mushrooms, are weirded out by the texture. So if they're tiny, sometimes you can slip them in. I won't say anything if you don't. ?
What are some variations of this recipe to try?
If you've made this Swedish meatballs with noodles recipe before and want to try some different flavor variations, try using a different type of wine. Sherry would be good or a dry white wine.
You could also try half and half instead of sour cream for a less tangy flavor. If you're trying to skim calories, try skim milk. It wont be as creamy of course, but it'll still be tasty!
You can also try different colored onions. I made this with red onions but you could also use white or yellow. Experiment and see what you like best or just go with whatever you have on hand!
Want more easy weeknight dinner ideas?
Browse all my easy dinner recipes
This Swedish Meatballs with Noodles recipe was featured on Menu Plan Monday, Sew It Craft It Cook It, Inspire Me Monday, Wow Me Wednesday and South Your Mouth!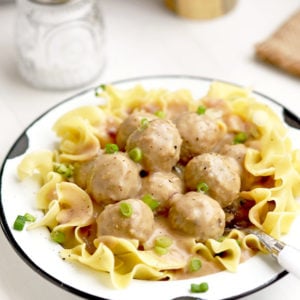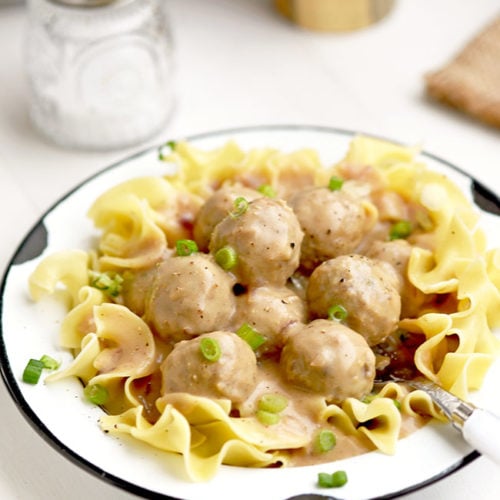 Easy Creamy Swedish Meatballs with Noodles
These easy creamy Swedish meatballs using frozen meatballs (or make your own) are served over egg noodles and is one of our favorite recipes to make for dinner during the week.
Read Comments
Print
Pin
Rate
Ingredients
½

cup

butter

½

onion

any color, chopped

¼

cup

mushroms

chopped (optional)

½

cup

flour

4

cups

beef broth

1

tbsp

worcestershire sauce

¼

cup

marsala wine

¼

cup

sour cream

8

oz

frozen meatballs

Salt and pepper to taste

12

oz

egg noodles

cooked

Chopped green onions for garnish

optional
Instructions
Melt butter in a large pot over medium heat and add onions. Cook onions and mushrooms until onions are translucent and mushrooms are glossy and smooth.

Next, whisk in flour. Cook for a minute more to cook out the floury taste.

Stir in beef broth, worcestershire sauce and marsala wine. Bring to a boil.

Add frozen meatballs. Return to a boil then reduce to low and simmer for 20 minutes.

Stir in sour cream and add salt and pepper to taste right before serving.

Serve meatballs and sauce over warm, cooked eggs noodles and top with green onions for garnish.
Nutrition Facts
Easy Creamy Swedish Meatballs with Noodles
Amount per Serving
% Daily Value*
* Percent Daily Values are based on a 2000 calorie diet.